Back to Press Releases
Press Release
Business Report
141 S. College Ave.
Original source:
www.ncbr.com
AgriHouse awarded exclusive licensing for leaf sensor technology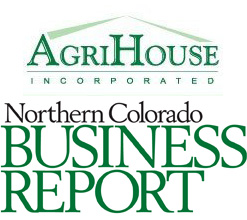 BERTHOUD - AgriHouse Inc. has been awarded an exclusive license from the University of Colorado in Boulder for leaf sensor technology designed to reduce water use and the costs associated with raising leafy crops.
"This gives us the exclusive marketing, sales and manufacturing rights for North America," said Richard Stoner, AgriHouse's founder and president.
The Berthoud-based biotech company's first product -- the SG-1000 Leaf Sensor and Precision Irrigation Control Software -- became commercially available in the fourth quarter of last year. The sensor provides continuous information on moisture content and nutrient need of the plant to which it is attached.
Stoner said USDA tests of the product in 2008 on dry beans in Greeley confirmed the device's efficacy in monitoring plant health and its potential to reduce watering by 25 percent over conventional watering schedules.
"It was uncanny how you could see the plant responding to every little change in the environment with the sensor," Stoner said. "You can't see these changes with the naked eye, but the leaf sensor picks it up."
Stoner said a wireless version of the leaf sensor is now in beta testing and he expected the product to be commercially available by the end of the year.
Last year, AgriHouse also released its ODC product to protect pine trees from bark beetles.