Back to Press Releases
Press Release
Grant for Leaf Sensor Technology
AgriHouse Receives National Science Foundation Research (NSF)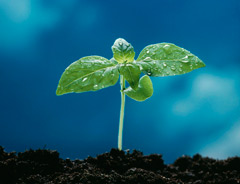 With new technology, researchers hope to save vast quantities of time, money and water by having plants "tell" farmers what they need and when. Credit: © 2007 Jupiter Images Corporation.
Turning a New Leaf
Working with a $150,000 Small Business Technology Transfer research grant from the National Science Foundation (NSF), Richard Stoner and others at his high-tech company, AgriHouse, are developing a technology that will enable plants to communicate with humans.
The technology uses sensors to record a plant's moisture content. The sensors are simply clipped to plant leaves to monitor the plant's water deficiency and accompanying stress. The resulting data is transferred from the sensors to computers linked to irrigation systems. Hence, the sensors ensure timely watering of plants and cut down on excessive watering.
Agricultural activity accounts for about 40% of freshwater use in the United States and techniques utilized by these sensors will decrease overall water consumption, potentially saving farmers millions of dollars per year.

To date, the technology has been used only with cowpea, a legume, but researchers believe that this leaf-sensor technology could be transferred to a variety of crops including corn, wheat, potatoes, sugar beets and pinto beans, and even be extended to grass and fields, which would aid park and field maintenance.
Yet another case of NSF research and technology turning a new leaf! See the press release from the University of Colorado at Boulder for more information.