Back to Press Releases
Press Release
Innovative Partnership Program (IPP)
A High Performance, Gravity Insensitive, Enclosed Aeroponic System for Food Production in Space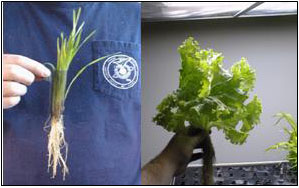 Seed Support System Commercialized for Sterile Germination Without Pesticides. Lettuce Harvested in 45 days from Planting
Description of Innovation
Aeroponics International (formerly EnviroGen, Inc.) of Berthound, CO was the recipient of a 1998 NASA Small Business Innovation Research (SBIR) award. Under this contract Aeroponics International and Bio Serve Space Technologies, A NASA sponsored Commercial Space Center located at the University of Colorado, team completed studies aboard the Mir Space Station in 1998. Aeroponics International™s Organic Disease Control (ODC) experiments on adzuki beans were the first experiments of their kind to be conducted on food crops in low-gravity. The research results lead to the company commercializing this system as the Genesis Series V Aeroponic Systems. The Aeroponics Systems allows the growth of plants in an air/mist environment without the use of soil or an aggregate media. This high performance food production technology will rapidly grow crops using 99% less water and 50% less nutrients in 45% less time. Aeroponics has contributed to advances in several areas of study including root morphology, nutrient uptake, drought and flood stress.
Value Back to NASA
The Aeroponic system can be used to produce the various food crops that NASA intends to grow in space. The SBIR award lead to the development of a precise control of several variables to propose the first system that offers a plant and harvest technology that it™s only by-product is the plant itself. No other amount of natural resources is required to operate this advance food production system. Crops can now be economically grown in an enclosed life support system at higher densities without the need for harmful pesticides and in less time. This technology is not subject to weather conditions or the seasons. Crops can be planted and harvested year around without interruption. Crops produced have a higher mineral content and are contamination free of pesticides, soil and other residue.
Commercial Benefits
The recent commercialization of the closed-loop aeroponic food production technology now offers government agencies, commercial growers and producers to take advantage of this technology for economical crop production. The technology will grow vegetables, fruits, cereals, grains and fibers. It is also an applicable to biopharming, pharmaceuticals, nutraceuticals, and horticultural crops. It meets BL-3 laboratory specification for biological containment and sanitation. Aeroponics International™s founder Richard Stoner II was the first person to commercialize aeroponics in the USA in 1983. He was granted the US Patent (1985), "Methods and Apparatus for Aeroponic Growing of Plants."
Partnership Contributions
Today the technology is being used by commercial growers and producers who want to take advantage of clean efficient rapid food production. The commercial aeroponic units were tested by Aeroponics International as well as University of Hawaii, University of Georgia, South Dakota State University, Reuters University, US Department of Agriculture, Weyerhaeuser Timber, Hauser Chemical, Pan World LLC and GrowAnyWhere LLC.
ITTP Role
Richard J. Stoner II of Aeroponics International was the Principal Investigator for the Phase 1 SBIR contract through Kennedy Space Center™s SBIR/STTR Program to address NASA™s need for a more precise control of the micro-environment for rapid crop expansion using low-mass materials. These programs are managed by NASA™s Chuck Griffin and supported by ASRC Aerospace™s Project Specialist, Jennifer Van Pelt.